Golden 1 Credit Union
(or Golden 1) is a credit union headquartered in Sacramento, California. There are currently 82 branches located throughout the State of California. Golden 1 currently serves 34 of the 58 counties in California.
Routing Number for Golden 1 is
321175261
.
You can use routing number which is issued by ABA for direct deposits, wire transfers, electronic payments. Routing numbers are also known as transit numbers. To make a direct deposit to your account you need following 3 things -
Account Number of the account to which money needs to be sent
Name of the Person as per bank's record
Routing number of Golden 1 (which is 321175261)
You can also find routing number and account number on the check issued by Golden 1 CU as shown below -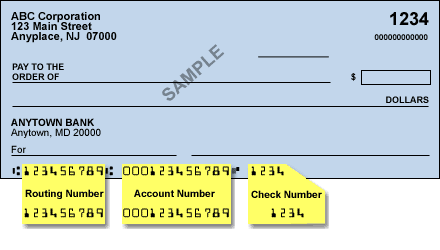 All Routing Numbers for Golden 1 Credit Union.
| Routing Number | Bank | Address** | State, Zip |
| --- | --- | --- | --- |
| 321175261 | THE GOLDEN 1 CREDIT UNION | 8945 CAL CENTER DRIVE SACRAMENTO | California, 95826 |
**Address mentioned in the table may differ from your branch office address. Routing number of a bank usually differ only by state and is generally same for all branches in a state.
Post Questions / Comments Below
comments powered by